We formed in early 2005 to play at the Highside Folk Dance club in Galphay, near Ripon, thanks to Andrew Bodey's enthusiasm. We were soon asked to play for a dance for Ted Flexman from Sawley who was raising money for a village project. We had to have a name and as we were sitting around drinking our favourite beer, Roosters, it was an obvious choice.
In September 2007 we were lucky to be playing for a ceilidh for Vision Aid which is a charity that Roosters (brewery) supports and thankfully they approved of us using the name. It is still our favourite beer, a lot of it was consumed at said ceilidh. Thanks.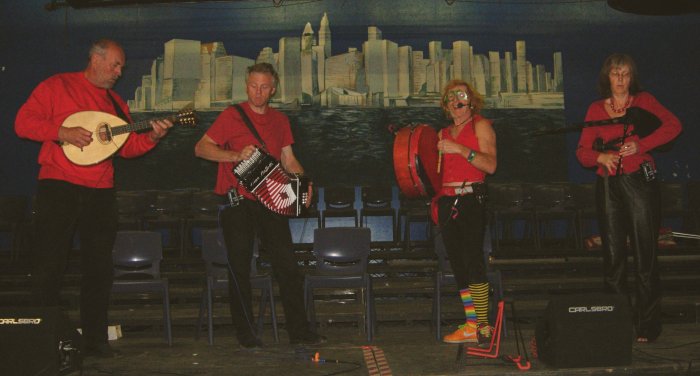 Bookings
| | | |
| --- | --- | --- |
| 28/01/23 | Thoralby | Burns Supper |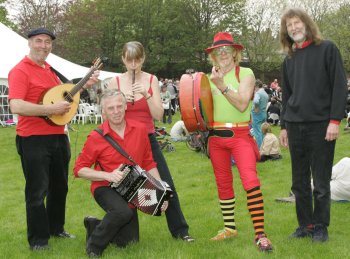 Ripon Beer Festival 2008 - raised almost £6000 for the Cathedral
Find other events

| | | | | |
| --- | --- | --- | --- | --- |
| | | Pictures from St Cecilia's Orchestra ceilidh in North Stainley Village Hall | | |
To book us for your ceilidh or barn dance or fund raising event telephone Ted on 01765 620441 or email
We would like to be in the hall at least and hour and a half before the start so that we can set up our equipment and do a sound check. We can play for as long as you require. Our Equipment is PAT tested and we have £5,000,000 public liability insurance.
We play for all kinds on events and we are often asked to play for weddings. Usually we share a wedding with a DJ to cater for all age ranges and we would particularly recommend Tim Whitworth from Thirsk. Tim's website - www.djtimwhitworth.co.uk/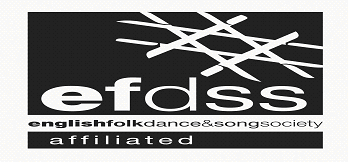 Comments- Thanks for a brilliant evening, beyond our expectations!
Please pass our thanks on to the whole band for a brilliant night on Sat. The band were exactly what we were hoping for and we thoroughly enjoyed meeting you all. All your efforts, lively personalities and abundant energy meant that everybody joined in and had so much fun. All the comments were very positive. So basically a massive thank you to you all!
We consider our Ruby Wedding Anniversary Celebration at Bishopthorpe on June 13th 2009 to have been a great success! This was due to a number of things including the excellent food, the keg of terrific Rooster Special Bitter, our friends and relatives and, of course, the wonderful Rooster Ceilidh Band. Everyone loved the music and the dancing and we have received many complimentary comments as to how well the occassion went. Thank you Rooster Ceilidh Band for making it go so well for us. We have no reservation in heartily recommending you for anyone thinking of having a similar private function. Thanks and regards Bob & Jenny Redwood
MP3 Recorded on a Sony Minidisc recorder directly from our mixing desk at a dance in the Village Hotel in Hull.
Davy Davy Nick Nack/Dark Girl Dressed in Blue